Early Years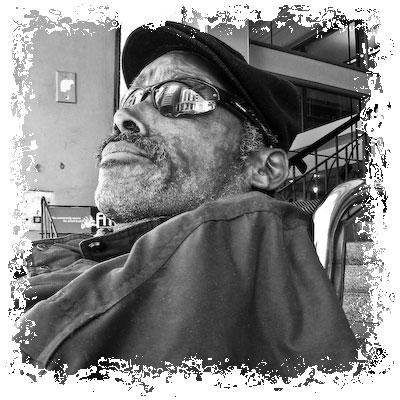 Milton Anthony McKnight was born South Philadelphia on October 18, 1953, to James & Gloria McKnight.  His father worked in construction, and his mother stayed at home.
He has been in a wheelchair since the age of three, due to a pre-natal condition that is probably alcohol-related, known as spastic cerebral palsy.  At that time, the remedy was Thorazine, and small doses of valium.
Before the age of two, Milton's father took him to live with his great aunt and uncle, Harvey and Arwilda Drummond.  Harvey was "a laborer and entrepreneur," and Arwilda was a missionary and had previously been an educator in Liberia.  They instilled in Milton his strong faith and work ethic that has continued through his life.  They attended the AME Zion Church, which he attended until his teenage years, but it "didn't have enough fire" for Milton.
He attended Widener Memorial School in Germantown -- a suburb of Philadelphia -- from kindergarten through 12th grade.
A Young Man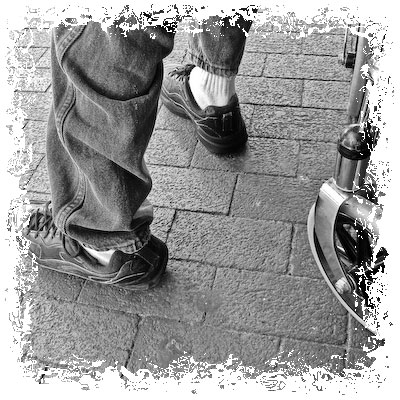 At age 9, he began his entrepreneurial life, selling daily newspapers on the street (Philadelphia Tribune and the Daily News & Inquirer). This was while using a standard manual wheelchair, by himself, even through the frigid Pennsylvania winters.
He's been a baseball fan from an early age, but obviously has never been able to play.  However, at age 14, he managed a baseball team, and under his guidance, they "won a few games." He coached players, selected the lineups, and gave pep talks between innings.
Around that same time, a friend introduced him to the New Day Spring Baptist Church, which had more of the passion and "fire" that Milton has come to enjoy.
From an early age, he's had a passion for writing, and during his teen years wrote a lot of poetry and articles. In high school, he had articles published in local papers. The subject matter? "I had an afro and was very militant," he says. It was the late sixties, and he wrote about the issues of the time: racism, desegregation, equal rights.
After graduating from high school, he attended Philadelphia Community College, and majored in Journalism.  He graduated with his Associate in Applied Sciences in August of 1976.  However, despite his formal education, he felt more comfortable in his street vendor role, and started working with a man who owned a booth where he sold hats, scarves and gloves on a street in downtown Philly. He would man the booth for several hours a day, and the owner would pay him an hourly wage. Later Milton would open his own booth.
In 1972, as Milton puts it, "Guess what?  Oh, my goodness!  I became a Jehovah's Witness!  Unbelievable!"  He found in this faith something that connected with him.  He found purpose and friendship, and for the next 20 years he worked for the church while selling his items on the street to make a living.
Raising a Family
During this time, several events would change his life.  In the summer of 1977, while doing "field service" (going door-to-door spreading the word, and distributing pamphlets), Milton met a young woman named Dorothy.  They hit it off at once.  They courted for a year, and were married on July 8, 1978 in the Jehovah's Witness Kingdom Hall in South Philadelphia.
Dorothy and Milton continued to spend their time working for their church.
On September 24, 1984, Dorothy gave birth to a daughter, Tamika Sharee. 
When Tamika was 2, the family came to Florida to visit Disney World. They came back again a year or two later, and decided that they would one day move away from the cold winters in Philly.
They finally did move to Florida in December of 1988, with their 4-year-old daughter, 2 nephews and a family friend. They moved into a house on E. South Street, and then later to the Elmwood Apartments on Anderson St. 
Milton continued to sell items, now on the streets of Orlando, starting out with perfume and then flowers.  He also began to make friends.
In 1991, their second child, a boy, was born on October 5.  They named him Milton Anthony, Jr.
That same year some of his new friends got together and bought him a powered wheelchair, giving him a new freedom and mobility, and reducing his dependence on others to help him get around.
You've Got a Friend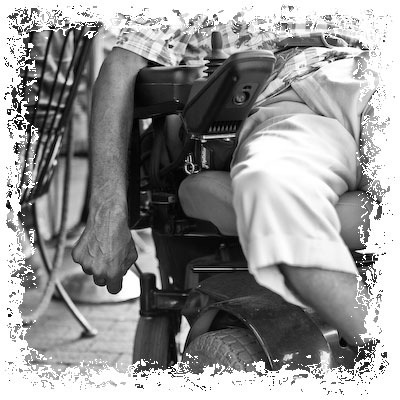 Then a couple of years later, he was cruising along in his powered chair, and some Orlando Police officers approached him and asked him to come to the substation.  They asked him if he wanted to move into a house in the Parramore district.  The police, along with other local businesspeople and attorneys set up a fund, and raised the money to buy him a house, which he still lives in today.
A friend invited Milton to go with him to his church -- the Freedom Ministries Church in Apopka. Milton was impressed with the service. "Oh my goodness...  I felt like I was going to go through the roof!"  After this experience, he no longer wanted to go to the Jehovah's Witness services any more.  He went to the FMC for the next 4 years, making lots of very good friends.
Eventually, he found a church closer to home that provided the same kind of feeling, and joined the Jesus Christ House of Prayer, led by Pastor Lester Jones.  He was "a very powerful man," and Milton attended the church for 10 years.  Pastor Jones died in a fishing accident on Lake Apopka, and the church dissolved after that.
Getting Better All The Time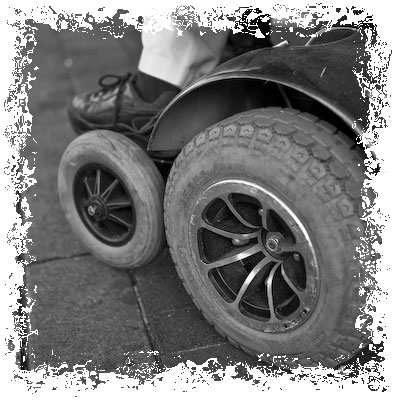 Milton says that his life continues to improve each day, due in large part to the kindness and generosity of people who know and love him.
He is now a regular member of the congregation at the Christ Open Door Community Church, where he has found a home. The Pastor, Fred Patton, gives a good sermon, and the service is "so powerful... it's awesome!" The church is just a short power-chair drive from his house, and he can be found there most Sunday mornings.
When asked how he stays positive when life gets really difficult, he says, "It's the Lord.  And you just do what you gotta do.  All you can do is try. Be open and friendly to everyone, and let God handle it."